If you're a cat owner looking for a functional and stylish way to keep your furry friend entertained, look no further than these 12+ aesthetically pleasing cat trees and towers bound to keep your cat happy while looking great in your space, too!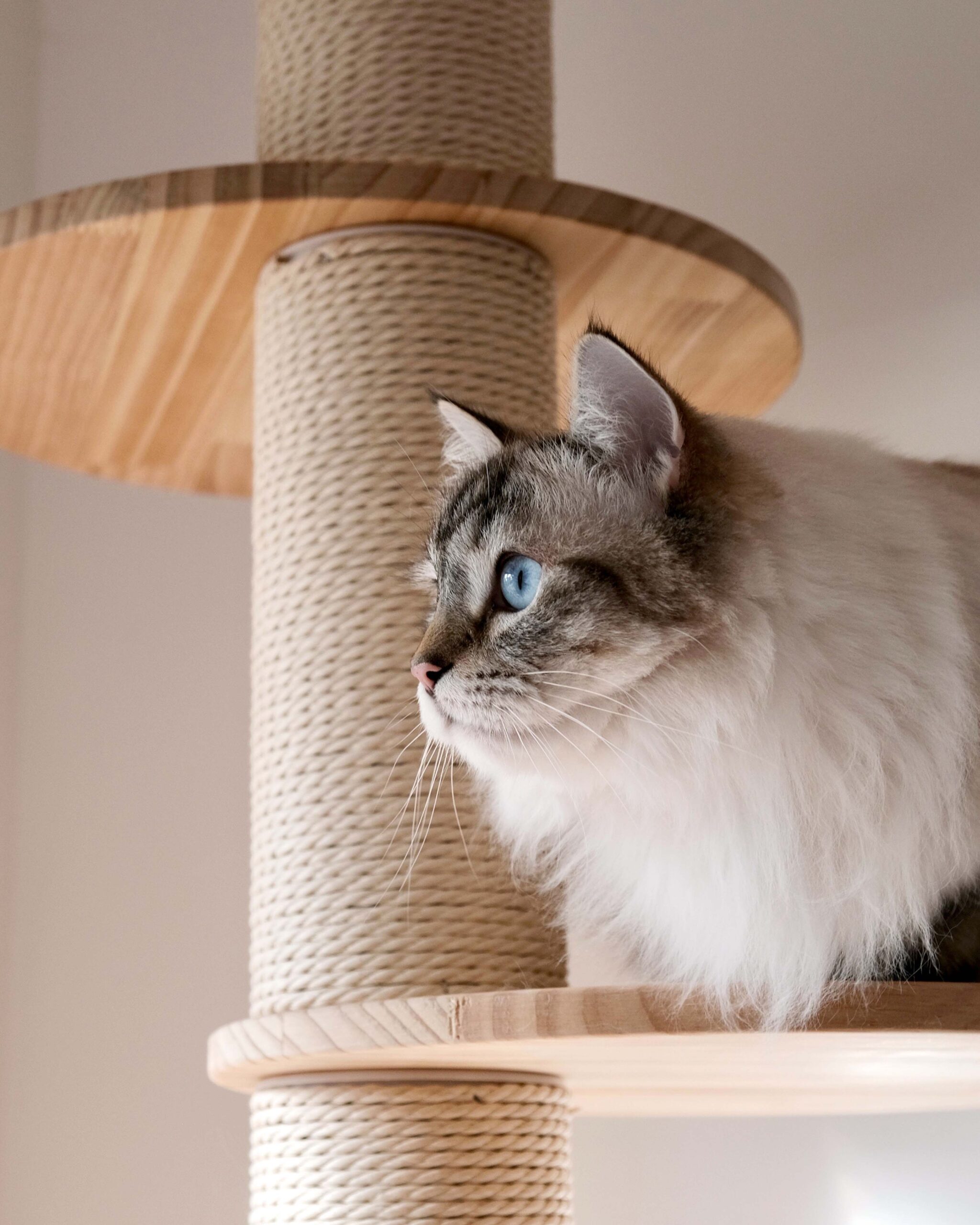 Aesthetically Pleasing Cat Trees and Towers
From chic minimalistic cat tree options in modern wooden designs to natural-looking cat trees and towers that have been handcrafted to perfection, check out 12+ attractive, aesthetically pleasing cat trees and towers below;
Featuring an attractive modern slatted design, the Grove cat tower from Tuft + Paw is made from premium plywood with ash veneer and comes with 2 chic comfy faux shearling cushions. Available in 2 sizes.

Beautifully handmade from real tree branches, the Cento modern wooden cat tree features 2 woven baskets with removable, washable cushions, as well as 2 scratching posts, and a cozy, cushioned cat cave. Available in 3 colors.

Handcrafted to perfection from real natural wood branches, the Teddy Noir Tres floral cat tree features 2 sisal scratch posts, 3 premium plush perching platforms and a cute cat house below. Also available in white (below).

The HappyStack cat tree scratch tower features a stylish modular design with a durable scratchable outer surface and patented pyramidal shape. Perfect for climbing, scratching, and hiding.

DESIGN WOOD AMSTERDAM | ETSY
This cute cat tree is handmade from natural wood and features 2 perches, a scratch post, and a neutral beige pillow set. Also available in large.
Image: Design Wood Amsterdam
Featuring a narrow profile and an attractive modern aesthetic sculptural design, the Sprout cat tower is made from premium bent plywood with real wood veneer and includes a durable, tactile carpet surface perfect for scratching. Available in 2 colors.

This beautiful cat tree from KBS Pets features 2 sisal scratch posts, natural wood branches, and 3 plush premium fabric pads for perching. It also features a cozy cat house at the base. Also available in black (above).

A modern minimalist bentwood design with 2 platforms and plush washable cushions. Suitable for cats under 20 lbs. Available in 2 colors – natural, and black.

Featuring 5 platforms for multi-level fun and relaxation, this modern cat tree/scratching post combo is made from real wood and is solid and sturdy.

Simple yet sophisticated, the Uni cat tree from Mau Pets is handmade from real natural wood and features 2 comfy perches for your cat to enjoy. Available in 3 chic colors.

A modern multi-level cat tree made from high-density veneer board with a cozy cat house with 2 comfortable cushions + 3 anti-slip mats on the external platforms. Available in 2 colors.
Image: Tucker Murphy Pet/Wayfair

The Torre cat tower offers your cat a sleek and stylish outlet for stretching, scratching, and resting and is made from bent plywood with a natural wood veneer. It also features an outer polyester felt panel for your cat to scratch. Available in 2 colors.
Finally, this modern minimal cat tree scratching post from Tuft + Paw offers 3 adjustable perches for customizable climbing and is made from solid ash, premium plywood (with ash veneer), and sisal wrap for scratching.