Cats have a natural love for climbing, and what better way to satisfy this feline instinct than with a stylish piece of climbing furniture that both you and your furry friend can enjoy? We're talking about bookshelf cat tower climbers, of course!
Whether you're in search of a freestanding or wall-mounted cat bookshelf design in a traditional, modern, or minimalist style, check out 12 creative bookshelf cat tower climber options that we think you'll both love, below!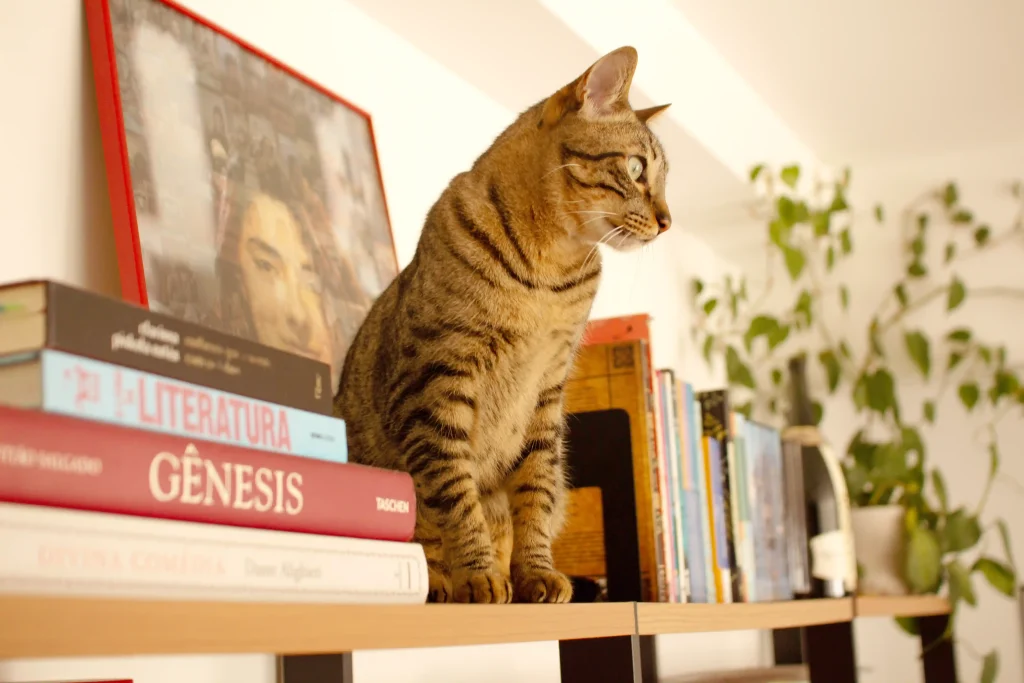 12 Creative Bookshelf Cat Tower Climber Options
From budget-friendly bookcase cat climbers to high-quality, handcrafted furniture pieces for cats that are designed to stand the test of time, check out 12 creative bookshelf cat tower options below; 
With its modern design and staggered bookshelf appearance, the Farrington Bookshelf Cat Tree from Tucker Murphy Pet is as beautiful as it is practical.
This Scandinavian-style bookcase cat tree from Cat Matter Co is available in 6 stylish finishes and features a versatile modular stackable design that both you and your cat are sure to love! 
Image: Cat Matter Co/Etsy
This stylish piece of cat furniture looks more like an elegant metal-framed bookcase than a cat tree! With multiple scalable platforms and sisal scratchpads to enjoy, this bookshelf cat tower is another popular option for design-savvy cat parents.
Image: The Refined Feline
This multi-level play tower for cats features 6 levels for hours of playtime fun, it's also made from an eco-friendly material that incorporates reclaimed wood and plastic.
This sleek wall-mounted cat tree design features a ladder-style frame, clean modern lines, and a cozy kitty hideaway to boot!
Handcrafted from solid oak wood this stylish bookcase cat tower would make for a statement furniture piece in any modern home.
Perfect for small spaces, this modern bookcase wall shelf system is handmade in Ukraine and features a modular design so you can pick and choose the pieces that will work best for you in your space. 
Image: Mirawood Store/Etsy
This impressive furniture piece for cats is sure to make a statement in any home. With its clean lines and modern design, this bookshelf cat tower offers an abundance of storage as well as plenty of space for your cat to play and hide.
Another modern wall-mounted unit that could easily be mistaken for a stylish piece furniture! This sleek cat climber from Sauder features 5 levels for climbing, jumping, and perching.
Available in 2 stylish colors, this modern piece of pet furniture can be used as a stylish litter box enclosure, with shelves, as well as a climber for your kitty.
Already using a cube storage furniture piece to house your books? Why not share it with your cat?! 
Clever Cube offer cute cat doors to fit popular cube storage pieces like the IKEA 'Kallax' so you can easily convert your IKEA bookcase into a kitty condo as well – because, let's face it, they're probably already climbing on it anyway!
Finally, this versatile cat house combines a hidden litter box, bookshelf, and storage cabinet in one, all while eliminating odors and cutting down on clutter with its convenient multi-tier design.