Looking for sturdy, high-quality wooden cat tree options for your large cat or kitties? We've got you! From aesthetic exposed natural wood cat trees to carpeted options with wooden frames, and more, check out 10 highly-rated wooden cat trees for large cats below!
10 Sturdy (and Stylish!) Wooden Cat Trees For Large Cats
Check out our top sturdy and stylish cat tree picks for big cats below made from real wood;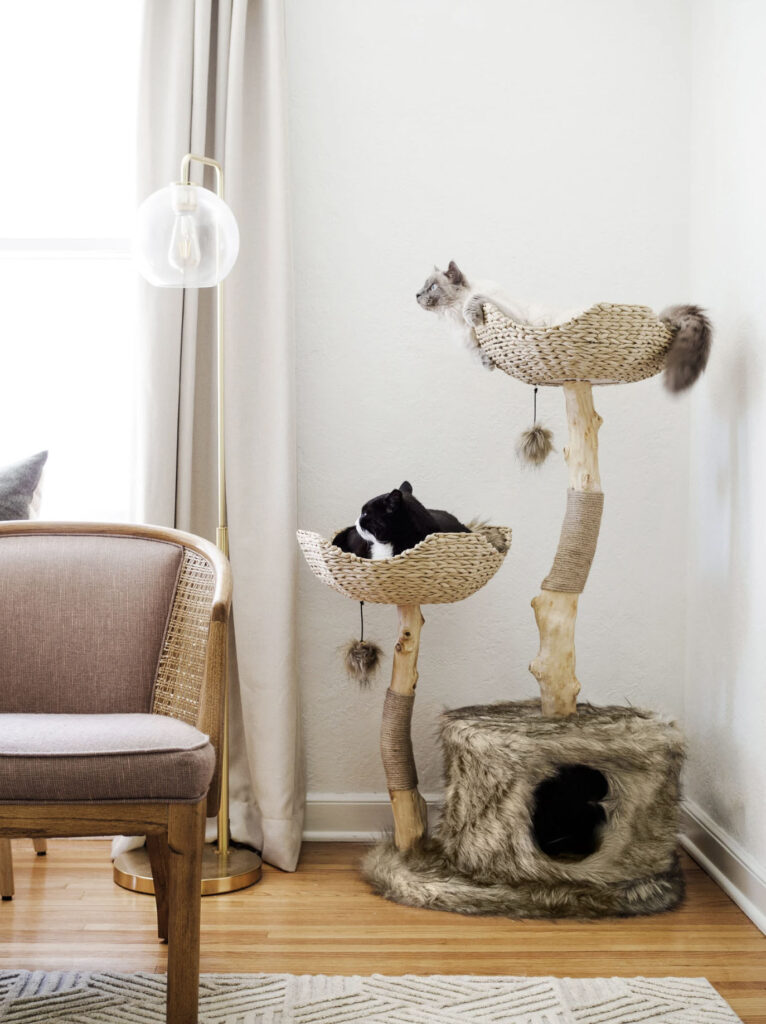 Made from real tree branches that have been treated for safety, the Cento wooden cat tree tower from The Mau Store is both stylish and practical and has been designed to accommodate cats of all sizes. With machine-washable perch pads, each basket can comfortably hold up to 25+ lbs, whilst the cozy cubby at the base measures 18″ across. 
Massive in size and extremely sturdy, the Empire cat tree from Cat Tree King is 72″ tall and weighs a whopping 143 lbs. Made from wood, sisal, and high-quality plush, the Empire's hammocks have been tested to hold up to 44 lbs and claim to be the strongest on the market. With large platforms and plenty of space to play and rest the Empire is suitable for multi-cat homes, chonky kitties, and large breeds alike.
The Milo cat tree from Tuft & Paw is made from natural birch plywood and is suitable for cats of all shapes and sizes. At 62″ high, the Milo cat tree's wide sturdy base, and multiple generously-sized perches and scratching areas make it perfect for large breeds, avid climbers, and multi-cat households.
Made from a combination of solid fir and manufactured wood, the 61″ Lounger from New Cat Condos can comfortably hold up to 50 lbs of weight, while the top perches can hold up to 30 lbs each. With a wide 24″ x 20″ base, this sturdy unit has been handcrafted in the USA and is made to last.
Well-balanced and super stable, the Crown cat tree from Happy & Polly is made from solid wood and is suitable for use by cats up to 25 lbs. It features multiple generously-sized perches, scratching posts, and resting areas and is 66.9″ tall.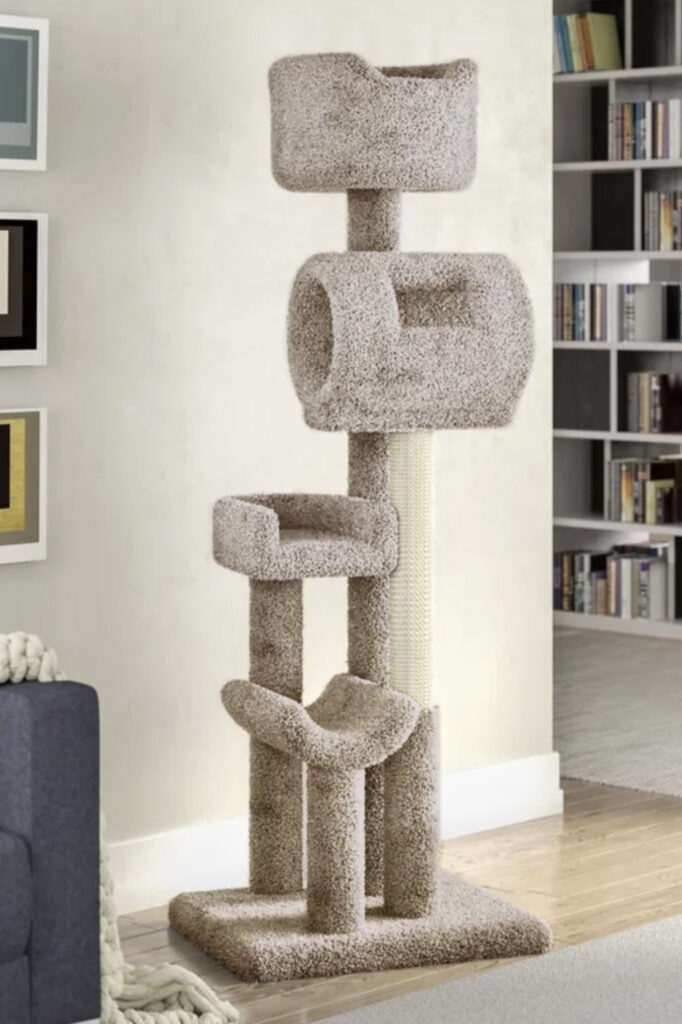 Available in 3 colors, the Haviland climbing cat tower from Archie & Oscar is made of solid fir wood and has a maximum weight limit of 120 lbs – making it perfect for large cats and muli-cat homes. Standing in at 69″ tall, this cat tree weighs 69 lbs and features a wide 24″ x 20″ sturdy base. 
Another popular wooden option from New Cat Condos with large cat owners is the 64″ Stairway cat condo. Made in the USA from a combination of solid fir and manufactured wood, this sturdy cat tree features four deep (7″) cozy cat bed perches and is available in 3 neutral colors.
Another stunning natural wood option from The Mau Store for large cats is the 73″ Ivy cat tree tower. Featuring a solid sturdy base and four 17.5″ perch basket beds, the Ivy is beautifully balanced and can comfortably support multiple cats up to 18 lbs each.
With plenty of positive 5-star reviews from happy big cat owners, the Armarkat 78″ Premium cat tree is made from manufactured wood with laminate, faux fleece, and sisal rope and has a max. weight limit of 70 lbs. With two bolstered perches, a roomy condo, and a swinging play rope, this cat tree can safely accommodate 4 large or 5 normal-size cats.
Made from solid fir wood, high-quality carpet, and sisal rope, the 52″ Deluxe cat tree from New Cat Condos features three comfortable 7″ deep and 17″ wide perch beds and has a max. weight capacity of 41 lbs. The tree itself weighs in at 41 lbs and has received many positive 5-star reviews from happy big cat owners.
Cat Tree Purchase Considerations
When choosing a cat tree that is right for you and your feline fam, it's important to consider the following;
Your cat's age, weight, size/length, and climbing ability
The number of cats that will be using the cat tree
Their sleeping, hiding, playing, and climbing preferences
Your cats' preferred textures, including scratching preferences
Any cat tree limitations relative to your cat/s (i.e. perch weight limits/sizes, stability)
The space available for your new cat tree, incl. placement/positioning
Your material and design preferences
Ease of cleaning 
We hope you enjoyed today's post featuring some of the best wooden cat trees for large cats! If your cat is new to cat trees, be sure to check out these 5 simple training tips from Vet Street that will have your cat loving their new tree in no time!